Greetings from president of Tokyo International Exchange College Ikebukuro
Welcome to Tokyo International Exchange College.
Tokyo International Exchange College is established with the purpose of creating responsible world citizens (Globally-minded people).
Throughout our Japanese language institution, we activate student's schema, encourage them to create originality, strengthen their ability to recognize and understand the truth about people and situations.
Under globalized society, our mission is to create an environment that encourages and makes students dream come true, cooperating toward international society and their homelands in the future.
President of Tokyo International Exchange College
Seiko Hayama
Greetings from principal of Tokyo International Exchange College Ikebukuro
"Education is for the accomplishment of learners' happiness"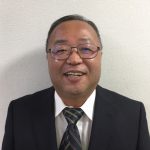 Tokyo International Exchange College was established in 2001 with this educational principle, and founded Tokyo International Exchange College Ikebukuro in 2017.
We have been undertaking to achieve this educational goal with 4 guidelines below;
To take care of students individually as much as we can
To teach our students satisfaction and admiration to cultural diversity
To teach Japanese customs and manners, the way Japanese people think, and to let them learn and respect each of their cultures
To be there for the students when they need help
Teachers' affection towards students and passion towards education, along with  their personality creates the study environment for the students. We will undertake to improve our personality and be responsible to support our students in achieving their goals.
We highly encourage students to come to Japan with a clear vision and goal to acheive in mind, and to make sure that you have a strong economy background to support your study before your visit.
We wish all the best to our students to have a successful life studying abroad in Japan and to maximize the experience in order to achieve ones goal in life. Eventually, to bring joy and happiness to their family an friends in the coming future. We hope all of you can gain an unforgettable one of a life time experience with us.
We are looking forward to seeing you in Japan.
Principle of Tokyo International Exchange College Ikebukuro
Koki Ezaki